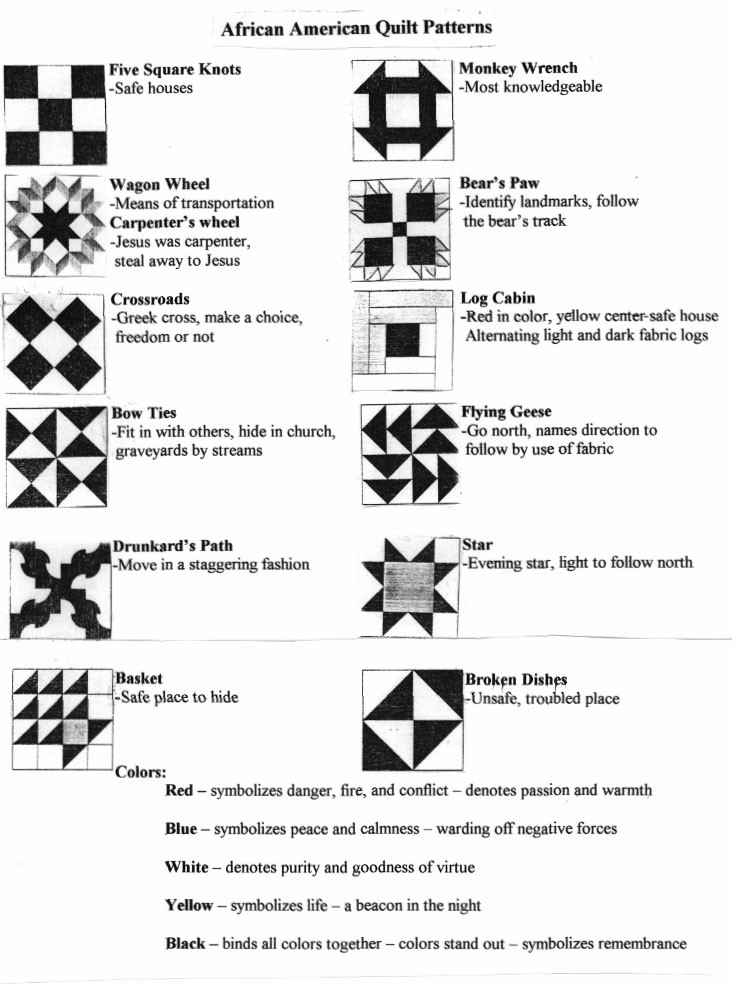 Fugitive Slave Legend contends geometric patterns on quilts made by slaves held secret maps and signs to help runaways find safe havens and navigate through the countryside as they made their way north, towards freedom. (It was illegal to teach slaves how to read). There is no consensus on the origin of these tales, or whether the stories are true.
Henry Louis Gates says," Freedom quilts? Simply put, this is one of the oldest myths propagated in all of African-American history. If a slave family had the wherewithal to make a quilt, they used it to protect themselves against the cold, and not to send messages about supposed routes on the Underground Railroad in the North, where they had never been! However, sometimes, on occasion, messages of all sorts were given out at black church gatherings and prayer meetings, but not about the day and time that Harriet Tubman would be coming to town. The risk of betrayal about individual escapes and collective rebellions, as we shall see in a future column, was far too great for escape plans to be widely shared."
Still, numerous theories and articles persist, identifying the meanings of particular designs found on modern Afro-American quilts (no quilts from the pre-Civil War period survive).  
novamil.org/sites/novamil.org/files/freedom_quilt.pdf
pbs.org/wnet/african-americans-many-rivers-to-cross/history/who-really-ran-the-underground-railroad