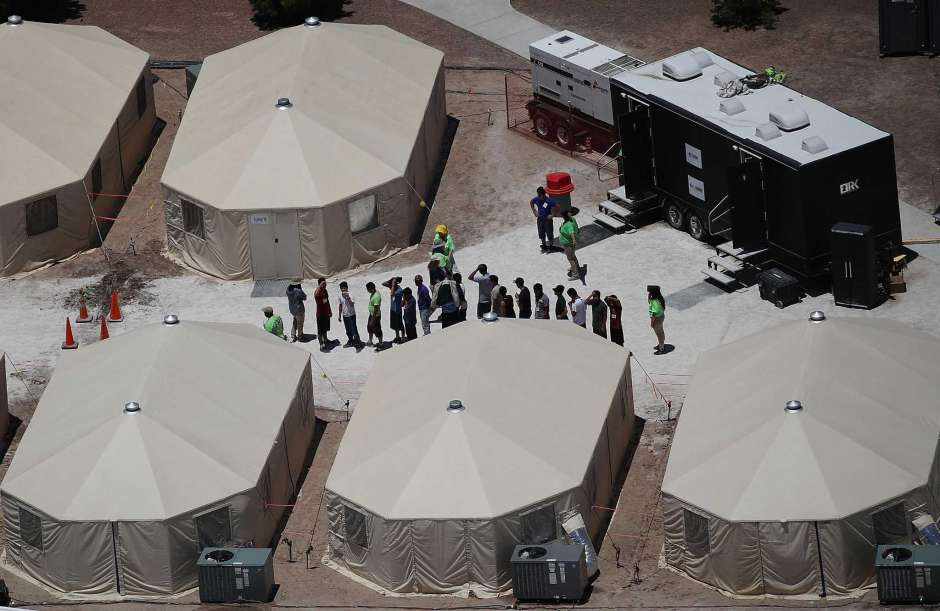 Children and workers are seen at a tent encampment recently built near the Tornillo Port of Entry on June 19, 2018 in Tornillo, Texas. The Trump administration is using the Tornillo tent facility to house immigrant children separated from their parents after they were caught entering the U.S. under the administration's zero tolerance policy.
Incarceration produces severe and damaging psychological and physical effects upon adult prisoners, including depression, emotional withdrawal, suicidal thoughts, unsympathetic behavior, etc. The loss of familial contact, lack of personal choice, and fear of personal safety in a predator or prey environment exacerbate all the negatives within the prison social subculture. Psychological distancing, social invisibility, inconspicuousness, and unobtrusive disconnection, are methods inmates employ to create safe buffer zones between themselves and their community.
When you place adolescents in a similar environment, you produce the same results, especially when you separate them from their families. Positioned in harsh institutional shelter environments with no emotional or physical comfort, the most prominent mental outcome is post-traumatic–stress-syndrome, manifest by flashbacks, nightmares, and a diminished sense of self-worth and personal value. Children immediately realize there is no escape from their situation. They have no idea how long they will be in jail, or if they will ever see their families again. Many cope by retreating into imaginary worlds. Adult inmates express this invented space with a saying, "you can lock up the body but not the mind."
As their time in lock-up wears on, their spirits escape into memories of loved ones, home, their favorite places, and things that may be disappearing from their recall, lost in the present.
houstonchronicle.com/opinion/outlook/article/Detention-centers-are-toxic-to-developing-minds-13044465.php
medind.nic.in/daa/t13/i1/daat13i1p66.pdf